Animation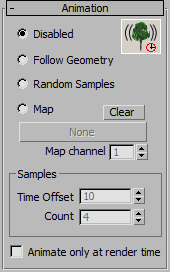 In this rollout we can define the animation parameters of Forest.
Note: these parameters have not effect in 3DS Viz, because this product has not animation capabilities.
Disabled
The plugin doesn't apply animation to the trees. All geometry, including templates and custom objects remain static.
Follow Geometry
Forest follows the mesh animation of the source trees (defined in the Geometry rollout), for each frame. If you use the default template trees, only the "Low/Medium/High Animated Planes" templates have animation applied. For "Custom Object" trees, the animation depends on the the selected object.
Random Samples
Using this option, Forest takes several mesh samples along the animation timeline, and uses it randomly to create the trees. The "Samples" parameters, defines the number of mesh samples, and "Time Offset", the difference in time between them, starting from time 0.
For example, Samples=4, Time=10 (using frames as unit-time), will take four mesh samples at frames 0, 10, 20, 30.
Map
This option works similar to Random Samples, but using a map to define what animation sample to get for each item.
Following the above example of Samples=4, Time=10, a black pixel in the map will take an animation sample at frame 0, a white pixel at frame 30, and interpolated samples for pixels in the gray range. The UV coordinates are taken from the surface assigned in the Surfaces rollout.
The Windy Grass tutorial is a good starting point to learn the animation concepts of Forest.