General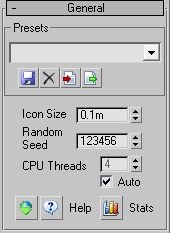 In this rollout we can define some general parameters.
Presets
These options let you store preset values that can be used in other related Forest objects. Use the editable field to define a name for your settings. Click the

button to save the parameters, and the

button to delete the selected preset. The

and

buttons let you to import and export the preset to an external file.
All numeric parameters and options are saved, but not the references to other objects, such as Area Splines, Surfaces or Cameras. The references to materials are saved as well, but before to be loaded and applied to a Forest object, the materials must be available on the scene or in the current material library.
If you want to move the presets to a different computer, they are stored in the file "forest_presets.ini", located in the user's folder: C:\Documents and Settings\<user>\Local Settings\Application Data\Autodesk\3dsmax\<max version>\enu. You can copy this file to any other computer which has Forest installed.
Default parameter values may be stored in a preset named "default". If it exists, the plugin uses it for new Forest objects.
Icon Size
When the plugin object cannot create trees (because not all the required parameters have been defined, or because of an error condition), it is represented by an icon with an "F" inside. This parameter defines the size of this icon.
Random Seed
This is any numeric value used to initialize the random number generator. This number affects the random transformations of the type of geometry, position, scale, etc. when they are used. For a given value, the trees always have the same transformations.
CPU Threads
Defines the number of threads used by Forest to build the trees. The default value (Auto) detects automatically the number of CPU cores, adjusting threads to it. Usually is not recommended that you modify this parameter.
---
View Stats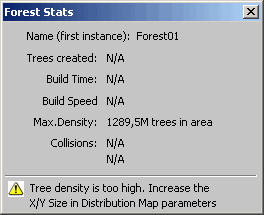 Opens a floating window that shows the statistics of the last selected Forest object, including number of trees created, build time, maximum density of trees in the area, etc.
If Forest cannot create trees because of an error condition (building an "F" icon instead of the trees), use this window to get additional information about the problem.