RailClone Tools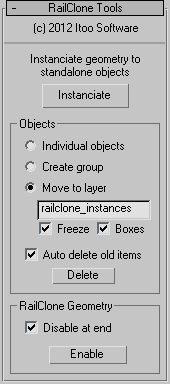 RailClone Tools, an Utility plugin, is used to group some tasks that cannot be done directly from the Modify panel of RailClone.
Note: RailClone Tools is available only in RailClone Pro.
Instanciate
Convert the geomety of the SELECTED RailClone objects to stand-alone objects, creating automatically meshes and instances where needed. Usually this is much more efficient than converting RailClone to an editable mesh.
You can use it to create instanced geometry in render engines which are not natively supported by the plugin, or to export the scene.
Objects
Individual objects
Create instances as stand-alone objects.
Create group
When enabled, group all instances created in a group object. Be care: 3DS may be very slow handling a huge number of objects in a group, most of times is better to put them as non grouped objects in a separate layer (next option).
Move to layer
Create a new layer and move the instances to it. The "Freeze" and "Boxes" checkboxes allows to create the layer as freezed and display all objects as boxes.
Auto delete old items
With this option enabled, RailClone Tools searches and deletes old instances before creating new objects. Use '"Delete" button to remove the instances manually. This only works if the objects have not been renamed (including the own RailClone object).
RailClone Geometry
Disable at end
This option disables the RailClone objects after creating the instances. It turns on the "Display-> Disable object" checkbox on each RailClone object.
Enable
Turns off the "Display->Disable object" parameter of the selected RailClone objects.
If you don't get the desired result with the instanced objects, and want to adjust some parameter in RailClone, it's easy:
Delete the instances using the "Delete" button.
Select the RailClone object.
Click the enable button.
Modify the RailClone object.
When ready, click the Instanciate button.
Installation
To use RailClone Tools, add it to the Utilities Max panel, as shown in the image.