Overview
In this tutorial you will learn how to create and organize your RailClone styles into libraries.
The libraries are a fast and easy method to reuse and share your models, once the library is created you can browse and apply RailClone styles with a single click.
A RailClone Library is only a disk folder with a special structure, and a set of files that let RailClone recognize and show objects stored in normal .max files.
---
Tutorial steps
1. Create a New Library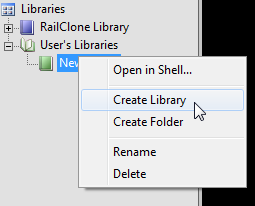 The fist step to create our styles is creating a library.
First open the library browser in the RailClone Plugin.
Select a top folder in the User's Libraries tree, right-click and select Create Library.
Rename the newly created library to My Library
When you create the library, a folder with the same name is created in the disk. This folder initially contains an empty index.xml and a thumbnails folder, this is the base structure for the library.
Now you can use the Open in Shell option to open the library in the windows file explorer and view its contents. The user libraries are installed in the User's libraries path, by default it points to "My Documents/RailClone".
2. Copy the objects and thumbnail files
To create the library items, you must copy your .max files to the newly created library. Use the Open in Shell option to open library in the windows file explorer and check its contents.
Save or copy a .max file containing your railclone objects into the library folder.
Copy the thumbnail images for your items into the thumbnails folder, use the same names that you use for objects in the .max file (the recommended format is a JPEG file of no more than 300 pixels).
If you plan to use several 3DS Max versions, please make sure to create them in the oldest available version to preserve file compatibility.
3. Create the library item
Once the files are in place, you can create the library item.
Open your new "My Library" in the library browser, right-click and select Create > Object Template.
Select the newly created item and select Properties..., the item properties window will open.
Fill in the description fields
Select the .max and thumbnail files, additionally you can select a material override from a material library.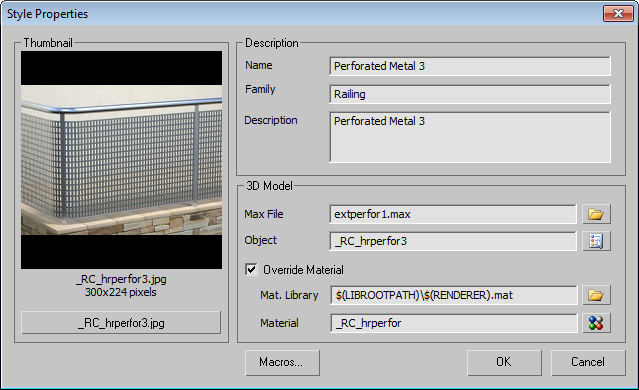 Click Ok and save your new library.