Distribution Map 2
Diversity
This window defines different modes to select what type of object, from all items defined in the Geometry List, is used when planting a tree for each pixel of the Distribution map.
Random
Creates plants randomly, using the "Probability" values of the Geometry List. This is the default mode.
Match Color ID on Map
This mode allows you to use colored distribution maps, where the color of each pixel defines a type of plant. In the scattering process, each pixel of the map is matched with the "Color ID" values of the Geometry List, taking the most similar.
Note: the "Probability" values of Geometry List items are ignored on this mode.
Although it's not needed that colors be exact, to get the best results is recommended that "Color ID" values are the most similar possible to those used in the map. Also is better to use high contrast colors as red, blue, yellow, green... The gaps (empty positions) can be defined using dark pixels, where the black level is adjusted using the "Threshold" parameter.
The "Noise" parameter is used to add some random variation to the distribution.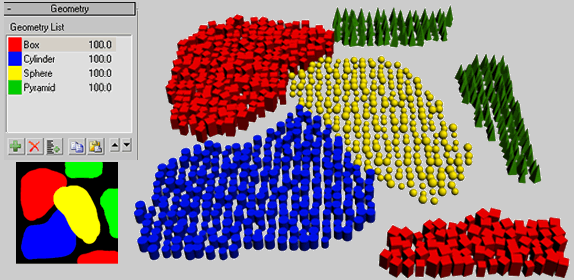 Clusters
This mode works grouping items of same type, in a similar way that plants are found in the nature. These groups are called clusters.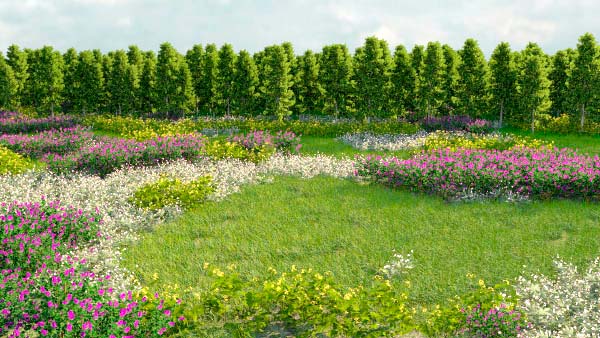 The following parameters are used to define the cluster appearance:
Size: use it to adjust the size of the clusters. This value is expressed in scene's units.
Roughness: set the shape of the cluster (0% = smooth, 100% = rough)
Blurry Edge: modifies cluster edge from sharp (0%) to blurred (100%)
Noise: adds random items to the distribution (0% to 100%)



Collisions
This feature checks the collisions between trees. It works scattering the items, and then deleting those trees that may collide with their neighbors.
Collision checking is based on exploring possible intersections between virtual bounding-spheres that surround each object.
To get the sphere's size of each objet, two parameters are used: Geometry Rollout->Radius, that is defined by each item of the Geometry List, and Distribution Map->Radius, that is a gobal value for the Forest object.. Both parameters are multiplied to get the resulting size. The value is defined in percentage of tree's size (from 100% to 1%).

The "Height" value is used to define the sphere's center in Z axis. The default value (0%) builds the sphere at ground level, increase it to improve the collision detection when using tall trees with large treetops.

Take care when using Collision Detection: if you increase the density of trees (using a dense map or lowering the X/Y parameters), you may get the same number of trees, because most of them are discarded by collisions... but the plugin will be have an extra workload in order to process them. This condition is alerted in the Forest Stats window, when the number of discarded trees is greater than 50%.