News
Read the latest developments from iToo Software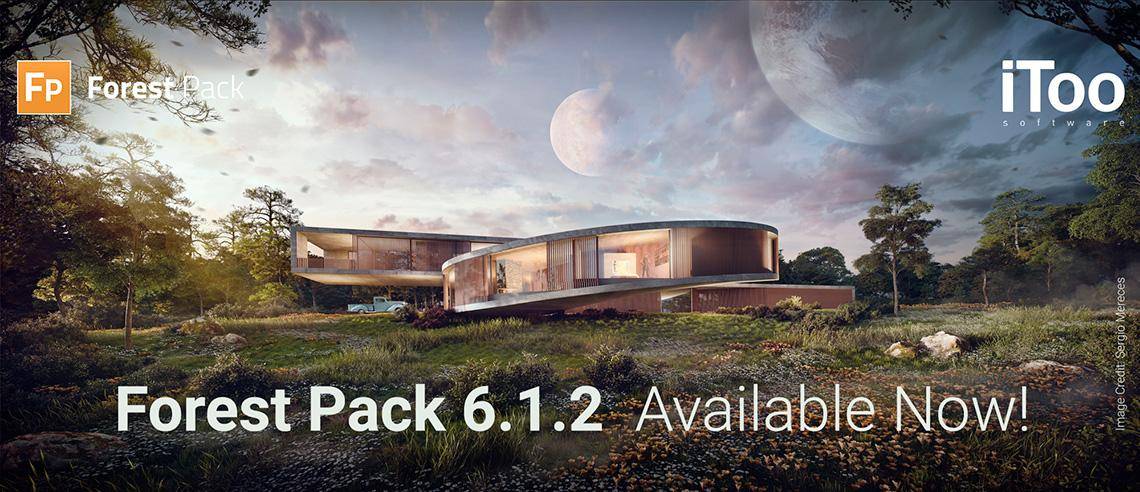 As part of our ongoing commitment to create the very best scattering plugin for 3ds Max, we're happy to announce that Forest Pack 6.1 is now live with several changes based on feedback from our users. 
In addition to many incremental improvements, this release also includes handy new features, including the ability to use Forest Colour's Tint by Surface tools, even when distributing items using particles, reference objects, and splines. 
To upgrade visit your User Panel, or read on for a full list of recent changes.
 

---
Release Notes
Forest Pack 6.1.2
With Distribution->Path, Reference and Particle modes, it's possible to assign a Surface keeping the item's Z position.
To do it, turn off "Non Image modes->Link to Surface" in the Surface rollup.
 This mode is useful to use the "Color by Texture" mode of Forest Color.
Fixed: Items are not oriented correctly when using Distribution->PFlow->Align.
Fixed errors in Lister when there are duplicated object names.
Distribution->Path Distance is set by default to 1 meter, regardless of the scene's unit.
"Surface->Custom Edit->Link to Surface" has been renamed to "Non Image->Link to Surface", since this parameter is used both in Custom Edit and Non-Image Distribution modes.
Fixed: "Color by Texture" doesn't work in Custom Edit mode if "Surface->Link to Surface" is off.
Fixed crash using Forest as a XRef Object.
Fixed missing items when rendering Particle Flow distributions.
Tree Editor is renamed to Items Editor in Settings dialog.
Fixed slowdown evaluating heavy models with displacement maps (as Maxtree models).
Forest Pack 6.1.1
Fixed bug in Collisions checking.
Fixed rare bug which causes a continuous updating of the FP object, when using animated splines and the time slider is not zero.
Fixed crash when applying a UVW Map modifier to the spline in Distribution->Path mode.
Fixed: multiple selection is lost after changing any parameter in the rollup.
Fixed: Density->Y Pixels is not greyed out when Lock Aspect ratio is checked.
Fixed updating issue when switching between Paint Areas and painter is enabled.
Forest Pack 6.1.0
iToo Toolbars (both Forest and RailClone) can be disabled adding the following registry key:
HKEY_CURRENT_USER\Software\Itoo Software\DisableToolbars = 1 (DWORD)
Fixed crash in some machines when plugin is loaded. (edited)