News
Read the latest developments from iToo Software

In our continuous effort to provide 3ds Max users with a best-in-class parametric modelling tool, we are pleased to announce the latest release of RailClone with password protection to macros, UI tweaks, performance improvements, and several fixes. 
The standout feature in this new update is the addition of an extra layer of security thanks to password protection for macros. This much-requested feature allows users to secure their macros through the Macro menu's Protect by Password option. Protected macros can then be exported as encrypted files allowing users to share or monetize their macros without giving people access to the graph.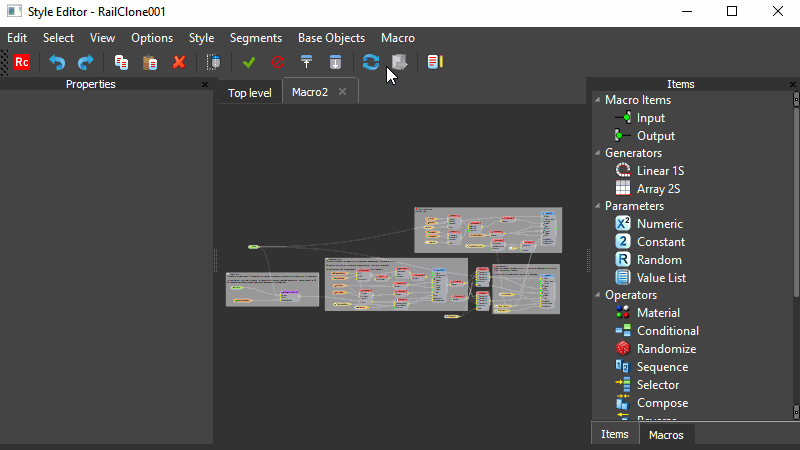 We've also added a UI improvement to help improve usability when working with the new always-on-top style editor. The 'RC' icon in the Style Editor now changes to red when a RailClone object is deselected, making it much easier to see at glance if you're editing the currently selected object. 
We've also addressed a several bugs. Performance is improved significantly, in some cases up to 5 times, compared to the previous version. Adaptive display mode has been completely rewritteen to improve performance by up to 10x for complex styles. The issue with RailClone objects continuously updating when using Live Link with Chaos' Vantage has now been resolved. We also corrected color discrepancies when loading library items in Max 2024, and fixed the issues with the Reset Zoom feature in the Style Editor.
RailClone's powerful expressions system has been improved with 6 new variables that allows you to reference attributes of adjacent spline sections. These are XSectionPrevLengh, YSectionPrevLengh, XSplineNextType, XSplinePrevType, YSplineNextType, YSplinePrevType.
RailClone 6.1.1 also brings a notable change to password-protected styles. To ensure optimum security, once scenes have a password added in 6.1.1, they can no longer be opened in earlier versions of RailClone - even for rendering. 
For more details, please check the release notes.
Where to download?
RailClone 6.1.1 is available right now from your User Panel. Just visit the My Products section to download
If your maintenance has expired, don't worry it can be renewed for another year with no penalty for lapsed plans.
Update to RailClone 6.1.1 now!
 
Never tried RailClone?
If you've yet to discover the benefits of RailClone, then there's never been a better time. You can try the Lite version free of charge, even commercially. Just visit the product page or use the button below to download the installer. When you're ready to upgrade for the full experience, you can purchase RailClone Pro from our online store.
 
FREE Lite VersionPurchase PRO Version
As always, we're excited to see the work you'll create with these improvements. Stay tuned for more updates as we continue to innovate and make RailClone the go-to solution for your parametric modeling needs.