Tutorials
Learn new skills with our bite sized lessons
How to use Forest Pack 7's Tree Stump Library
In this tutorial we explain how to use the new Tree Stump library included with Forest Pack 7
Resources
Requirements
Forest Pack 7
In the real world, forests are carefully managed, trees are cut down and coppiced regularly. Therefore, to help our users to create more believable areas of woodland, we've added a new collection of high-quality photoscanned tree stumps.
Each model has been painstakingly scanned from life, efficiently UV mapped and retopologized to create a high- quality library of 40 individual assets. As with any library item, you can add it in two ways. 
Firstly, to create a new Forest Object you would go to the create panel and click the library button 
Navigate to the stumps library and pink the model you wish to scatter. To select more than one, hold down Control while clicking with the mouse.
The Stumps library comes with materials for V-Ray, Corona, Arnold, FStorm and Octane, a drop-down list chooses which materials to import or you can leave it on Automatic Selector to load the materials for the current renderer.
Click Load Selected when you are done. 
Next, all you need to do is select a surface or spline to define the scatter. 
Finally, adjust the Distribution, then enable any Transform Randomisation as desired. 
Secondly, you can add a stump after the Forest Object has been created. Just go to the Items List, and load them in the usual way. Useful if you want to add some stumps to an existing tree scatter
We've also included several presets that include preconfigured selections assets plus recommended transform settings and distribution that you can use as a starting point. The stumps library includes 6 presets divided by type and size. These are even easier to use - just select a preset and pick the area. Everything else is taken care of for you!
Another reason for using these presets is for large areas or if you plan the export to a real time engine. The models in the presets have been optimised to have a quarter of the polycounts compared to the individual assets and use 1k textures.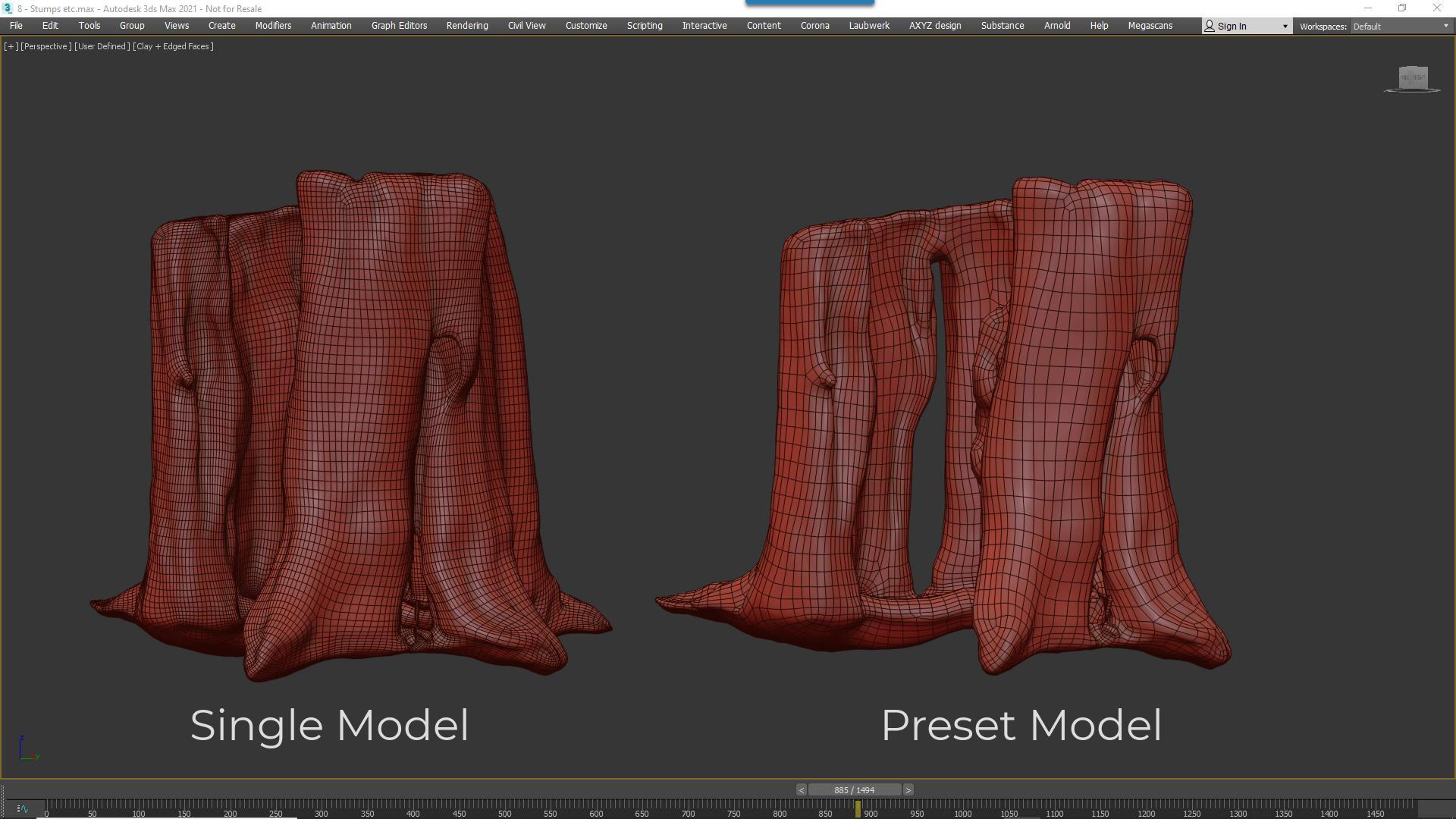 We hope you find these new assets useful for your work. Forest Pack 7 is available now. Find out more on the iToo Software website.