News
Read the latest developments from iToo Software

The most capable scattering plugin for 3ds Max has been updated with a powerful container plugin and new ways to link Forest objects. 
We're proud to announce the release of Forest Pack 8, the latest version of our trailblazing scattering and scene assembly plugin for 3ds Max. Version 8 cements Forest Pack's reputation as the most robust and flexible scattering option with the addition of Forest Sets, linked areas, improvements to effects, and much more, offering users completely new and efficient workflows to populate scenes. Check out the video for an overview and read on for more about what's new!
Forest Set

Forest Set is a brand-new helper plugin used to create a multi-purpose container for scene objects. A Forest Set object can be added to a Forest object as a collection of geometry, surfaces, references, or areas. Multiple Forest Objects can share a Forest Set, making it simple to add or remove areas, geometry, or surfaces and update several scatters from one easy-to-edit location. Even better,  the contents of a layer can be dynamically linked to a Forest Set, making it easy to update scatters using familiar scene organisation tools.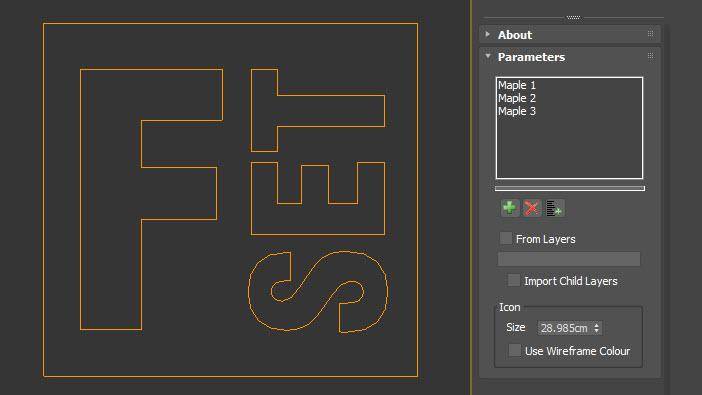 Linked Areas and Surfaces

To further expand the options for creating interdependent scatters,  Forest Pack 8 adds the ability to link to areas and surfaces used in another Forest Pack object.
Using this approach you could have a single parent Forest Object that controls all of the areas for several children,  without the need to assign the spline multiple times. Parameters that are specific to each type of area are inherited but common parameters such as include/exclude, falloff etc. are local and can be modified per Forest Object for some incredibly flexible setups. Combining Forest Sets and linked areas makes it easier than ever to create huge flexible interlinked ecosystems.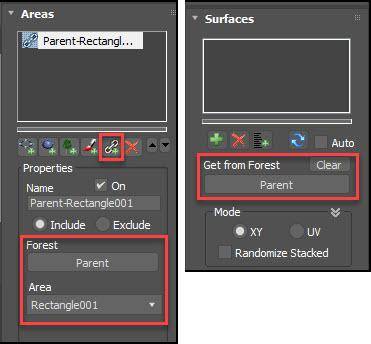 Note To make UI space for the new Add Linked Area button, the Add Multiple button has been removed. To add multiple areas you can still access this option by holding down Shift while clicking the Add Areas button
Areas support in Surface UV mode

Forest Pack 8 also introduces some often-requested features to Surface UV mode  - making it much more flexible. In previous versions, to use UV mode you'd have to sacrifice the ability to use any other types of areas. In version 8, you can now use Spline, Object, and other areas in combination with UV surfaces by projecting them along 3 axes using the new Area->Projection Axis parameter. Edge mode is also supported when using spline areas.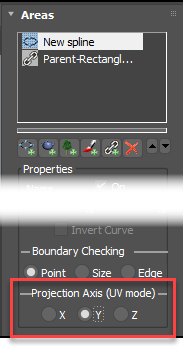 Autumn Leaves
 A new preset library of high-quality photo-scanned leaves for those chilly autumnal renders. The presets are logically organised by colour and supplied as both individual leaves for detail work and patches for filling large areas.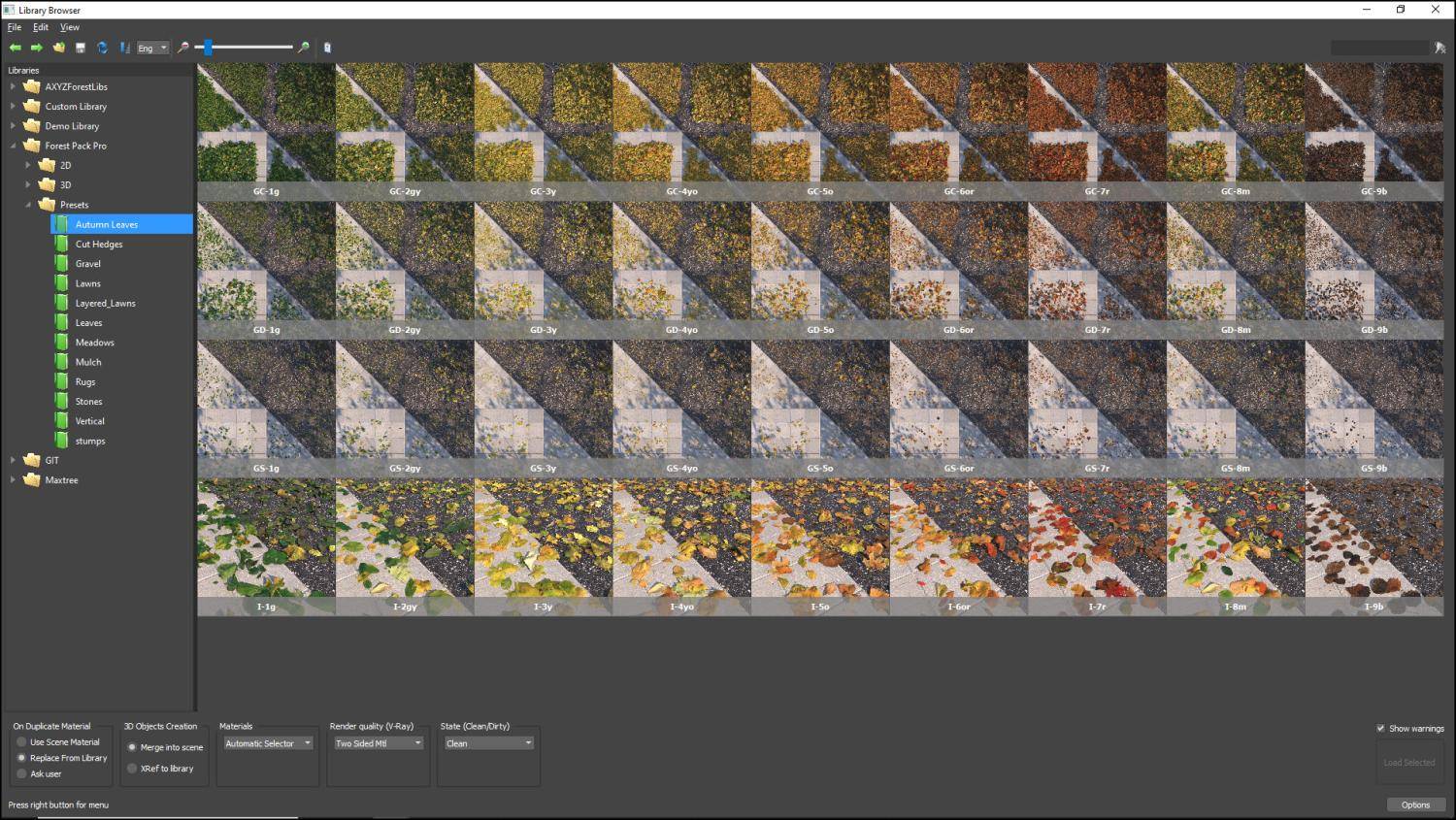 Forest Effects improvements

Forest Effects have been expanded with the ability to reference splines that are independent of distribution areas, opening this feature up to a whole new way to work. Using these features it's possible to modify just the parts of a larger scatter by enclosing them inside a path that has no impact on distribution areas.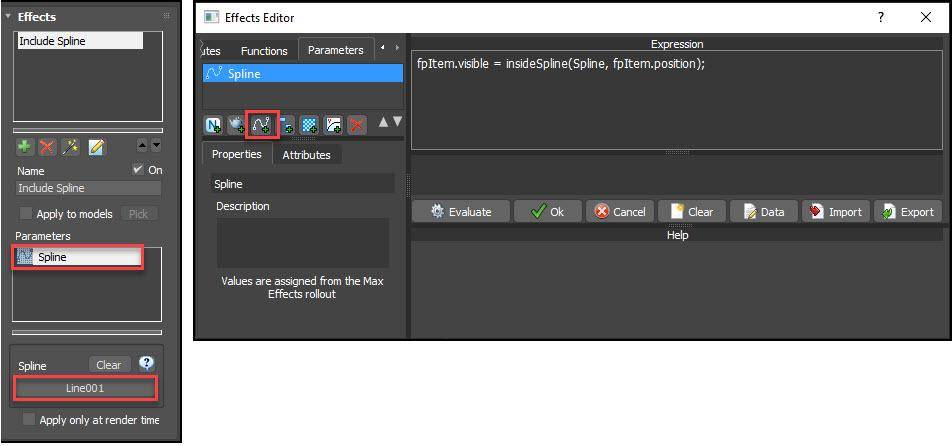 Spline inputs are added using the Effects Editor's Parameters rollouts. There are several new functions to support the new object, all of which work in 2D using the XY local plane:
insideSpline(spline, pos): returns 1 if specified position is inside the Spline, 0 if not. It is useful for applying some change to a scattered item based on whether it is inside or outside a spline. 
distanceSpline(spline, pos): returns the nearest distance in 2D from position to the spline. Useful for creating falloff effects based on a scatter item's proximity to a spline. 
 nearestPosSpline(spline, pos): returns nearest point from position to the spline. Useful for attraction effects where you want to translate the scattered items toward the nearest point on a spline. 
nearestTangSpline(spline, pos): returns the tangent of the nearest point from position to the spline. Useful for orienting scattered items to follow the direction of a path. 
It is also now possible to read the material ID from surfaces, and splines when using path distribution mode. This is supported using two new attributes: 
surfMatID: Material ID on Surface.
splineMatID: Material ID on Spline. Only works in path distribution mode.
Filter Forest Effects
Forest Effects can now be filtered so that they only apply to a subset of the geometry list, allowing you to refine individual types of plants using the powerful effects system.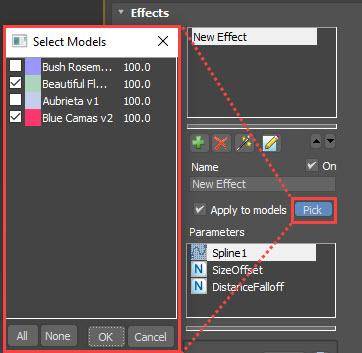 New Forest Effect presets
To illustrate the benefits of the new Effects improvements, several new sample presets are available, including the ability to rotate objects to follow splines, tilt objects to follow splines, scale by proximity to splines or within an area, limit by spline material ID and much more. Here's the full list
Colour > Tint By Spline
Allows you to control Forest Colour based on the scattered items proximity to a spline.
Dynamics > Spline Attraction
Gradually move items within a specified falloff distance towards a spline
Dynamics > Spline Repulsion
Gradually move items within a specified falloff distance away from a spline
Item Effects > Swap Geometry by Spline
Allows you to make local changes to the items scattered based on whether they are inside or outside a spline. Has a dissolve effect and falloff range so that you can gradually transition between items.
Path Distribution > Inside of Spline (Path Mode)
Adds the ability to exclude items distributed in path mode when they are inside a closed spline. 
Path Distribution > Outside of Spline (Path Mode)
Adds the ability to exclude items distributed in path mode when they are outside a closed spline.
Path Distribution > Limit to Spline Material ID (Path Mode)
Allows you to control which segments of a spline are used for path distribution by assigning material IDs
Path Distribution > Limit to Material ID (Surfaces)
Allows you to control distribution using material IDs assigned to the surface
Transform > Lean in spline Direction
Allows you to "comb" the scatter using splines. Items will rotate in the same direction as paths with controls for falloff and lean angle. 
Transform > Rotate to follow Nearest Spline
Rotates objects on the Z axis so that align with the direction of the nearest paths. 
Transform > Scale by spline
Can be used to scale items (with falloff curves) based on closed spline areas. You can choose whether the items affected are inside, outside, or both inside and outside the closed areas. 
Transform > Z Transform by Spline
Used to translate items on the Z axis based on closed spline areas. Useful when you want to gradually sink stones etc into the ground for transitions between terrain types. 
Scatter linked hierarchies

An alternative to groups, Forest Pack 8 can now scatter child objects of source geometry, maintaining their hierarchy. Hierarchical objects can be animated, and Forest Pack can even randomise playback just like a normal mesh!
To use this feature, pick the top object of the hierarchy and check the Geometry > Include Children option.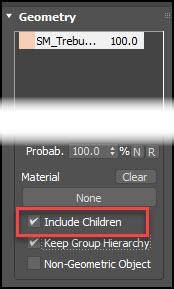 Randomise Position on paths

When using path mode, it's now possible to shuffle the position of objects while still following the spline - great for breaking up regular patterns for a more believable distribution of plants or other objects. 
Easier Error Identification
Save precious time by identifying issues at a glance. Forest Pack's icon now changes colour depending on three different error states: 
RED: An error such as no area assigned, maximum density exceeded, etc.
GREEN: No items, or items hidden by Camera clipping.
ORANGE: Some other error such as a new FP object, or a disabled object.
Other Improvements
User Properties preserved in V-Ray
V-Ray CPU users will be pleased to know user properties are now retained making it possible to use advanced texturing workflows.
Vertex Colour support in Arnold
Arnold users can now take advantage of vertex colour in their materials and be confident that Forest Pack will retain the final look.
Brush Settings 
The brush size parameter is now available in the main interface for easier access.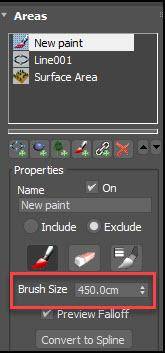 For a detailed overview, visit the Forest Pack 8 page on the iToo Software website. A full changelog of all the features, fixes, and improvements can be found in the documentation.  
Where to download?
If you've heard enough and you can't wait to give it a try, Forest Pack 8 is available right now from your User Panel. Just visit the My Products section to download
If your maintenance has expired, don't worry it can be renewed for another year with no penalty for lapsed plans. 
Never tried Forest Pack?
If you've yet to discover the benefits of Forest Pack, then there's never been a better time. You can try the Lite version free of charge, even commercially. Just visit the product page or use the button below to download the installer. When you're ready to upgrade for the full experience, you can purchase Forest Pack Pro from our online store.