News
Read the latest developments from iToo Software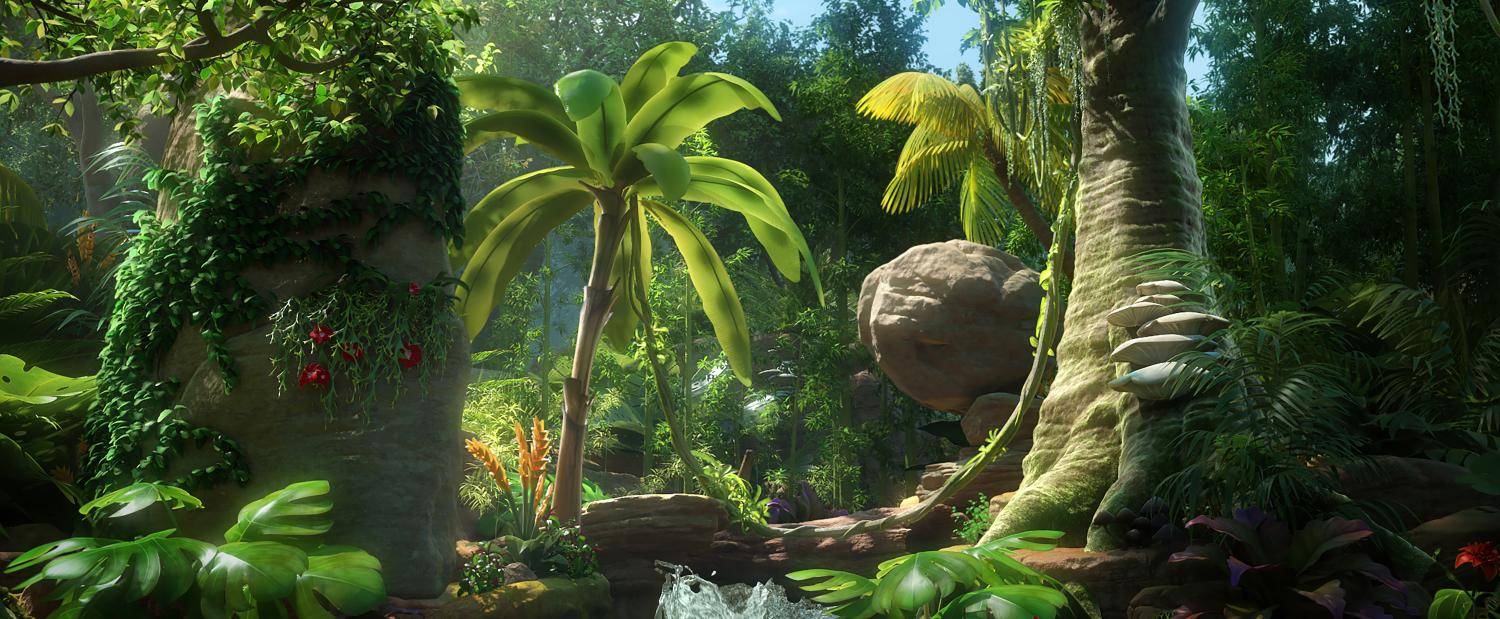 Maurice, a penguin raised in the jungle who believes he's a tiger, first waddled onto our screens in the 2012 fifty-two minute TV-special The Jungle Bunch. Along with his menagerie of friends and foes, he has since gone on to star in over 104 episodes over 2 seasons of the popular TV franchise Jungle Bunch to the Rescue.
After his successful stint in the living room, Maurice has fulfilled his creator's ambitions and made the leap to the big screen in the new Jungle Bunch feature film. We talk to Romain Teyssonneyre, technical director at TAT productions, about the challenges of adapting The Jungle Bunch for the cinema, and how Forest Pack Pro was used to help created the densely populated jungle scenes .
TAT Productions
TAT production's name originate from the surnames of its three founders, David Alaux, Eric and Jean-François Tosti who in 2000 set up the studio in Toulouse, where the studio is still located. They started out working on advertising projects, moving onto TV Shows and short films before working on their own projects. "We're now proud to employ about 120 artists" Romain tells us, "and our programs are broadcast in over 200 territories and translated into over 40 languages".
It's appropriate that the studio's name derives from the initials of the 3 co-founders, as they still maintain a strong creative influence, even as the studio and its projects grow in size . "All the scripts are jointly written by David, Eric and Jean-François" Romain tells us, "Then two of them, David & Eric, take it in turns to direct. From the outset, their aim has always been to make movies, so they're proud to release their first feature film."
Journey to the big screen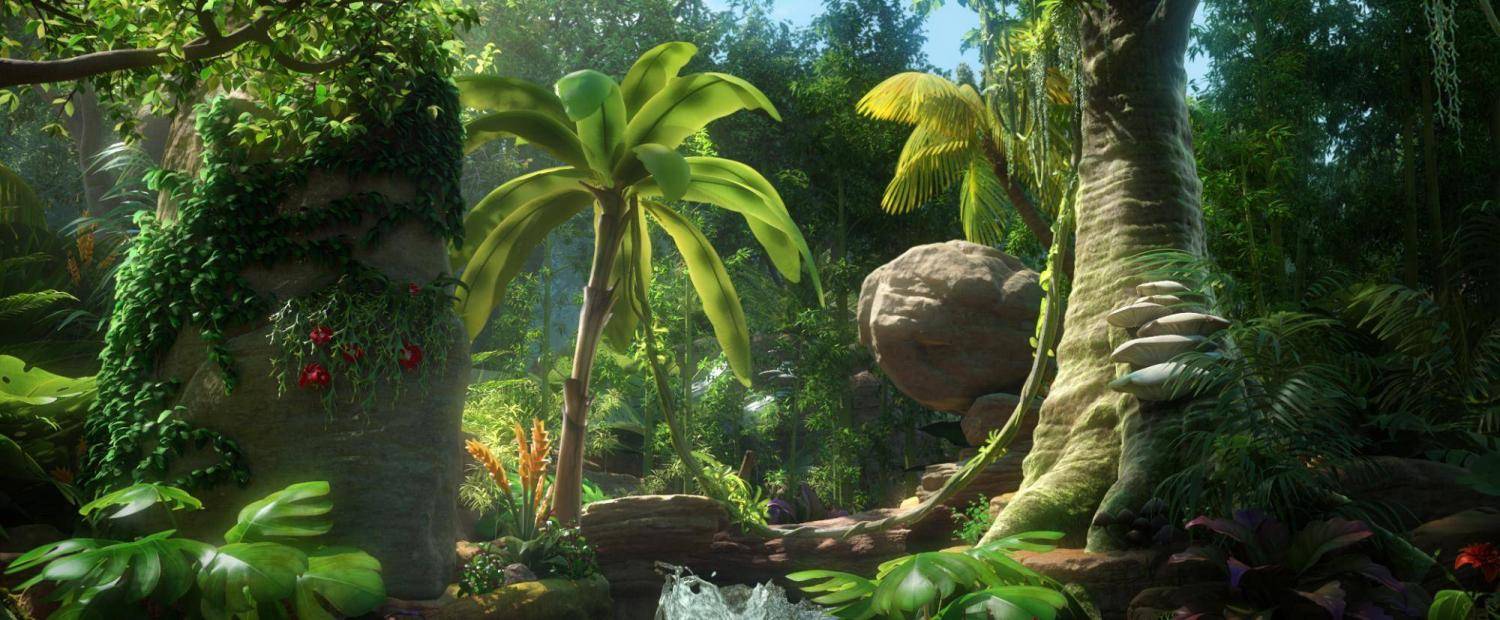 Children often watch TV alone, but at the cinema kids usually bring their adults along. The trick for a good feature animation is to keep a spectrum of ages entertained and engaged. "We attach great importance to this" Romain tells us, "we are constantly trying to tell a story that will find its way into an adults' hearts as well, with funny dialogue and many references and allusions to movies and TV from the 80 and 90s, such as Indiana Jones, Jackie Chan, Goldorak , The A-Team, MacGyver, The Goonies and more"
A second challenge is the shear amount of work and time a fully animated feature film involves. "From the concept design to the compositing we had around 18 months of production," Romain tells us "we started storyboarding at the end of 2015, to finish the animation at the end of 2016 so that we would be able to get the final images at spring 2017. The film was just released in France 26 July, 2017".
The third challenge is financing. The Jungle Bunch Movie, had an remarkably low budget, costing only around 6 million euros. Because of this Romain tells us that "projects at TAT Productions are really exciting, because we have a great ambition to release a film internationally that will sit alongside the biggest productions. This gives us some really exciting technical challenges!"
In part this was possible because as a long running TV show, many of the assets already existed. Still though, film has different requirements from TV. "We needed to step up visually to be at the level that is expected for a feature film." Romain says, " Much of the artistic side was already really well developed in the previous projects, so we decided to focus on a technical upgrade of all our assets. It was all about adding of details to support the larger resolution and the close ups on a big screen.
"For the characters, we reworked all their fur, and redefined all the textures as well. For the environments, we scaled up all the vegetation, to really accentuate the Jungle effect. We also worked hard on landscapes, adding displacement, more diversity in the shaders and improving the global set dressing."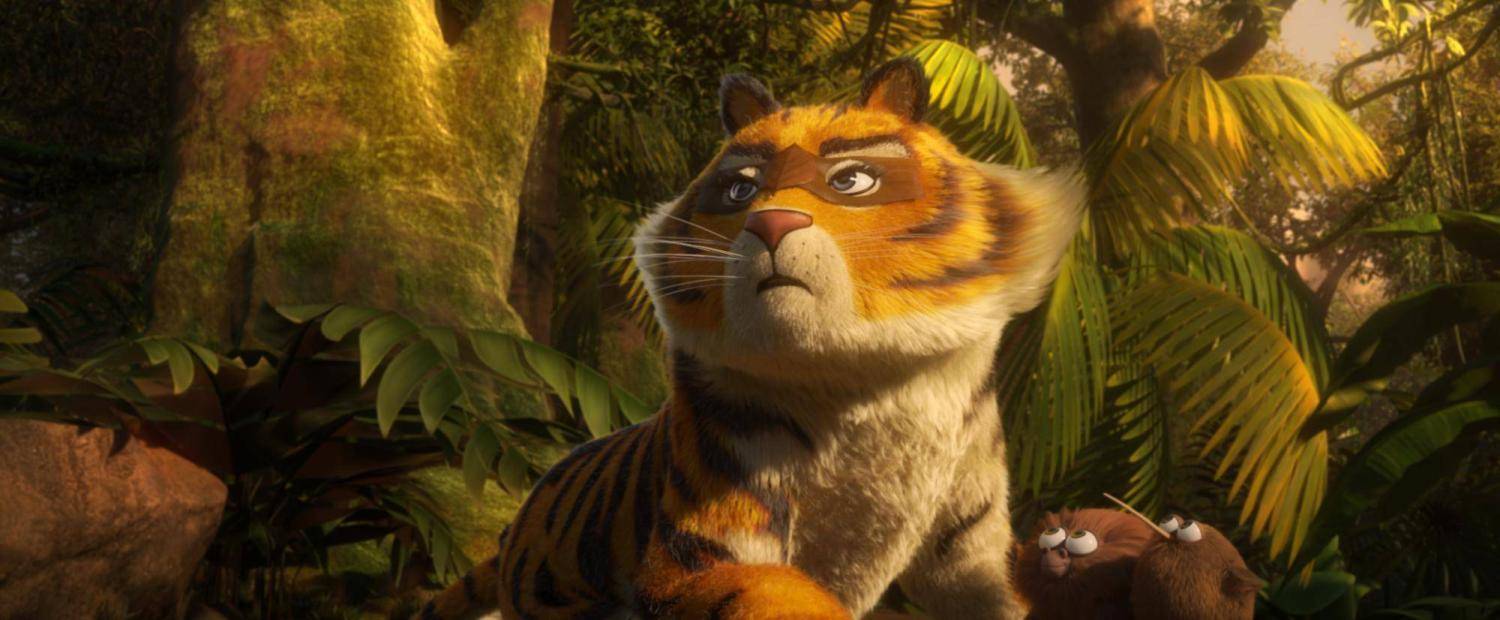 Pipeline.
There is a perception that for feature animation Maya is the tool of choice. TAT productions proudly disprove this notion, employing 3DS Max to full effect as their core application. Alongside this Romain tells us "we use Zbrush for 3D concept design and texturing, Ornatrix for fur, and on this production we also tried Quixel assets. V-Ray was used to render alongside Forest Pack (plus some manual placement) to populate the foliage-rich environments. In addition to off-the-shelf software we have a small development team of 2-3 people that create pipeline tools"
Creating Jungles
We asked Romain which scenes he used Forest Pack for. "All of them" was his response! "We are using it in all of our environments that need a jungle," he told us "which is probably over 80% of all the environments in the film. Despite this, our basic workflow hasn't changed much since we started to work with Forest Pack way back in 2011.
"First of all of our vegetation assets are prepared with 3 levels of detail, so we have: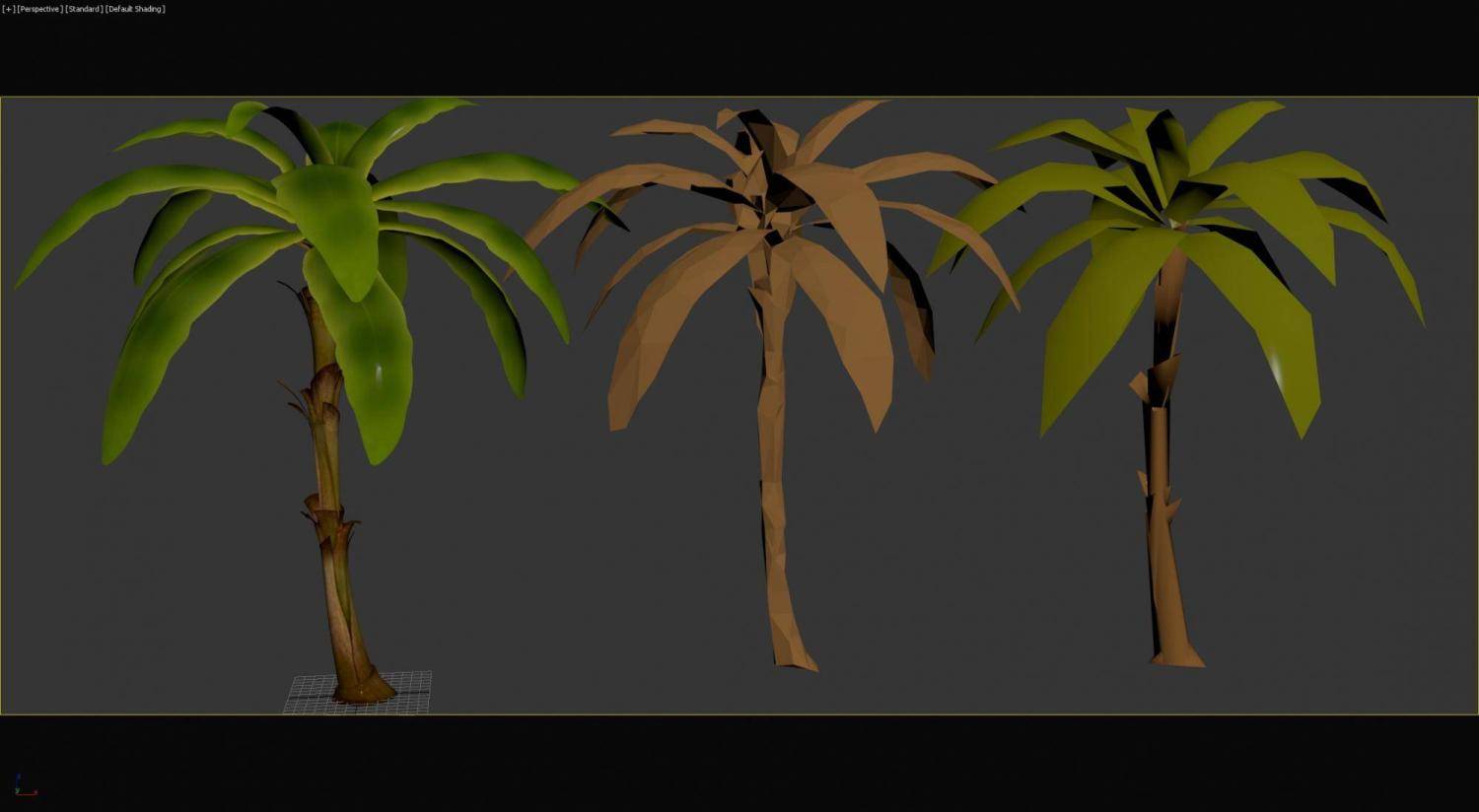 "A high quality version: mainly used for foreground or when the asset needs a tweak for a specific shot.
"A medium quality version: optimized and converted to a V-Ray Proxy. These are probably used in 99% of the shots.
"A low quality version: this ultra low poly version is also shaderless and it's for Viewport display only (with Xref objects) and for layout/animation scenes."
TAT Productions use Xref objects extensively to quickly switch between quality levels and to make it easy to update assets in a scene easily. It makes it possible to start work and build an initial version of the set dressing without having to wait for the asset's final detailing.
With the assets prepared, Romain tell us that the environments are typically built in 4 steps :
Step 1
"Creating the environment topology, the base terrain before adding any set dressing.
Step 2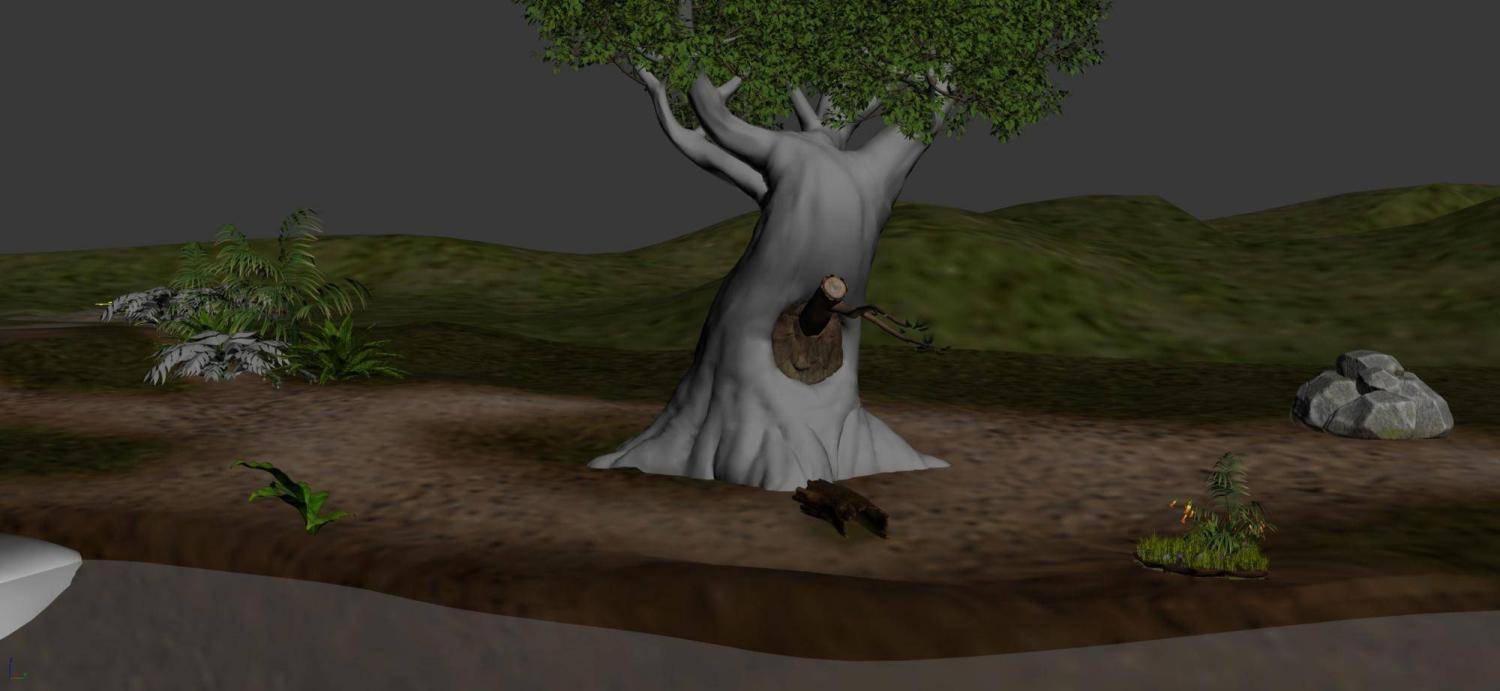 "In the second pass the sets are dressed immediately surrounding the characters. These objects must remain accessible in case they need to be moved for layout composition, animation and occasionally for rendering cheats. For example a tree or another piece of vegetation behind a character may need to be moved a little bit to fine tune the shot.
Step 3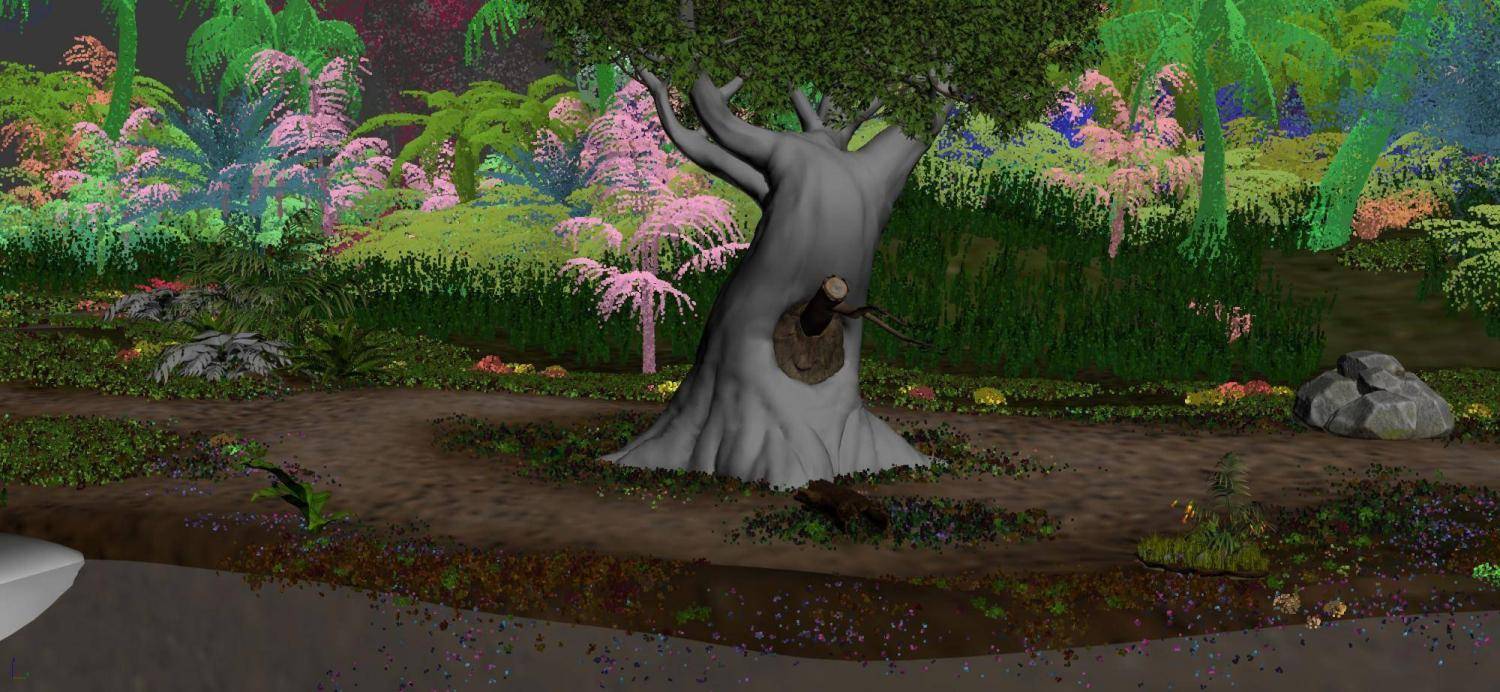 "In the third step the surrounding areas are populated using Forest Pack using the Xrefs mentioned above. In theory these areas are forbidden zones for animators so they're for rendering purposes only. The power of Forest is its ability to quickly fill larges areas while providing believable variation in distribution. One of my regrets on the Jungle Bunch is that we couldn't use the forest color map slot for tint variations, because of the fact that we also had a lot of non-forest objects in the scene. Making the forest color map independent from the forest object could be a huge improvement for us.
Step 4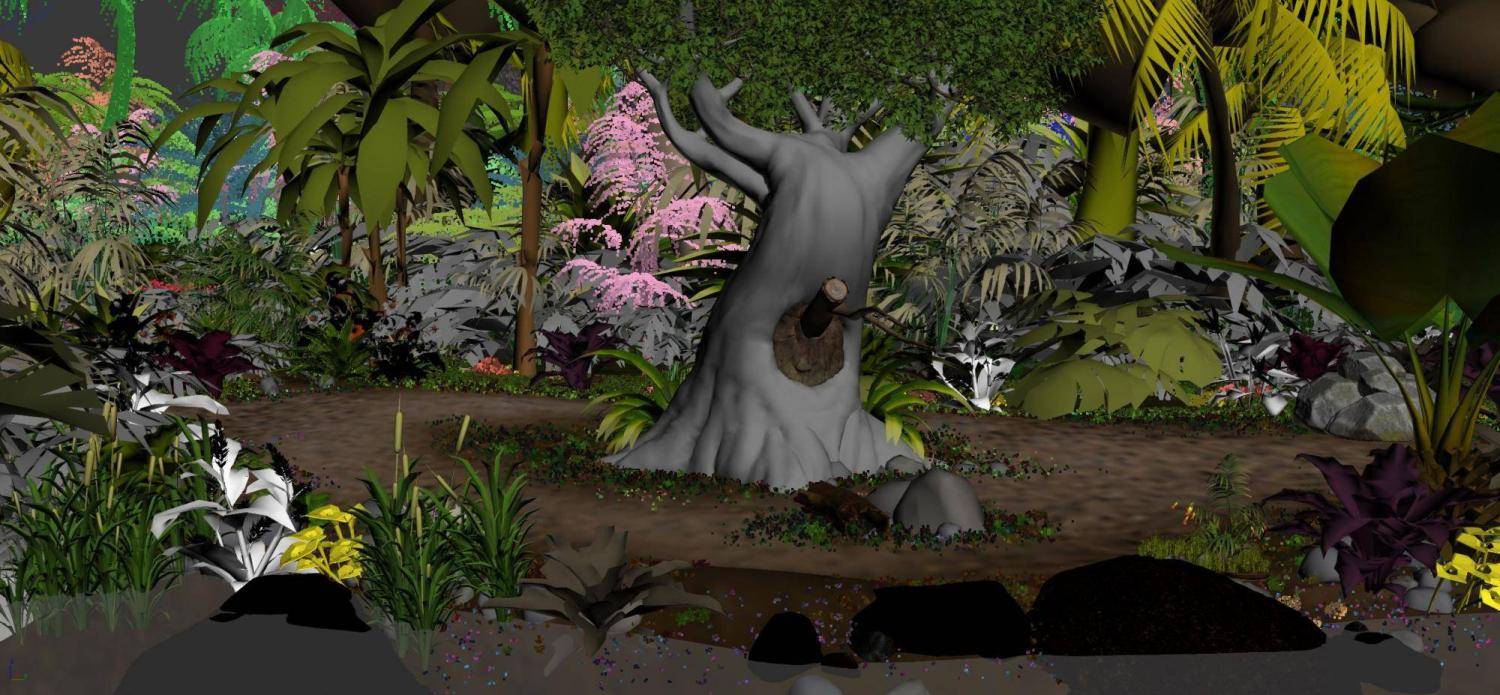 Finally we paint smaller items all over the environment like grass, rocks or leaves.Forest Pack's paint area function exclude splines features are invaluable for this as they give us powerful tools to work quickly and precisely at the same time. Another of the big advantages is to reduce the overall number of object's in the scene and improve rendering efficiency."
Render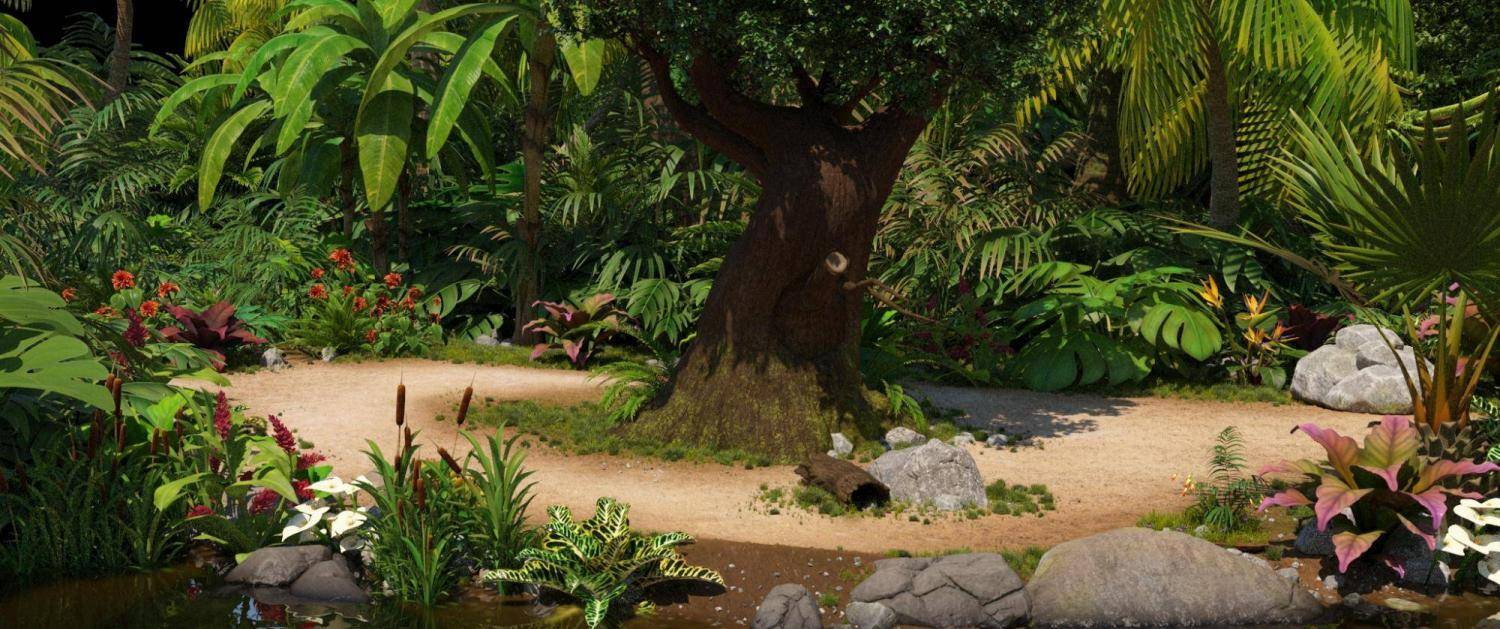 The evolution of a scene from drawing to render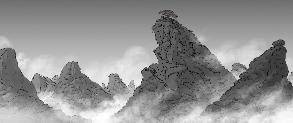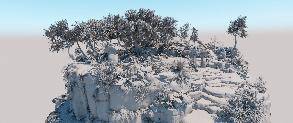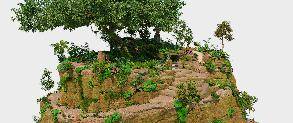 After the Jungle Bunch
Following the successful completion of the Jungle bunch, TAT Productions are working hard on their 2nd feature film: Terra Willy.
"The universe is totally different from the Jungle Bunch. It's the story of a boy called Willy whose spaceship crashes on a new unexplored planet. With the help of his personal robot he has to hold out until the arrival of a rescue mission."
This project will also involve a lot of jungle work, but with a crucial difference, this time the plants will be considerably more … extraterrestrial. "We already have plans to add climatic animation to the vegetation," Romain tells us "and I have no doubts that Forest will help once again".
As well as Terra Willy, TAT Productions are planning to launch Season 3 of the Jungle Bunch To the Rescue, in addition to 2 more films that are currently being written.
Until then The Jungle Bunch is out now in cinemas in France and French-speaking Switzerland; in October in Spain, Germany and Italy; and there are plans for about 35 other countries with numbers likely to increase. Check it out!